Birth of the Navy (1910-1914)
HMCS Niobe
HMCS Niobe, one of the Naval Service of Canada's first two ships, was intended in part to train Canadian sailors. A large, obsolescent cruiser, Niobe required many crew and was expensive to operate. Lengthy repairs after it ran aground in 1911, and subsequent budget cutbacks, limited the ship's activities.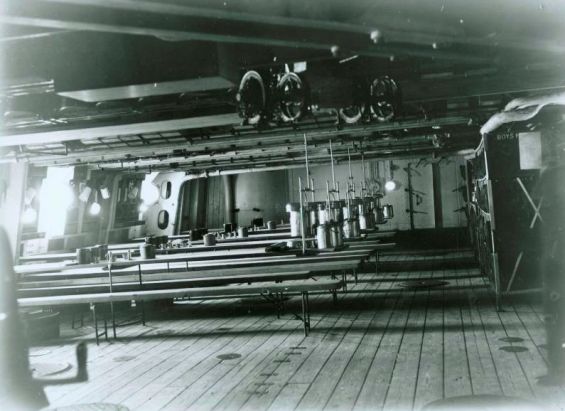 Boys' Mess, HMCS Niobe
This rare view of HMCS Niobe's interior shows a living space, or "mess," for young sailors.
Boy sailors on the ship ate and fraternized at these mess tables, as indicated by the partially visible sign at the upper right. Hat boxes, dishes, and duffle bags for personal items are all smartly stored away on racks (right). Such accommodations had changed remarkably little since the days when mess tables were slung between the cannon of 18th-century wooden warships.
George Metcalf Archival Collection
CWM 20030174-069