First World War (1914-1918)
The Home Front
The war at sea affected Canadians in a variety of ways. While extensive recruiting efforts at home sought men to become sailors in the Canadian and British navies, Canadian shipyards built warships and merchant ships to expand Allied navies and to replace vessels lost to submarine attack.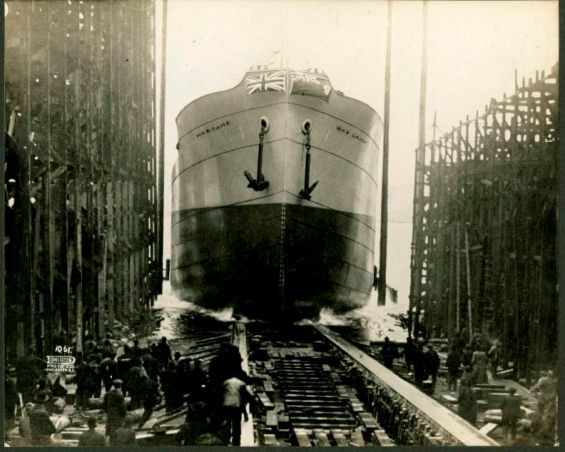 Launching of the SS War Camp, J. Coughlan & Sons Shipyard, Vancouver
In this photograph taken on 16 March 1918, the SS War Camp, one of nine large ships built by the Vancouver shipyard of J. Coughlan & Sons, slides down the slipway and into the water.
While the launching took place in mid-March, the War Camp required six more months of work to complete, carried out while the ship was afloat. Canada built merchant ships like the War Camp, with both steel and wooden hulls, to help replace vessels sunk by German U-Boats. The Canadian War Museum acquired this series of shipbuilding photographs in 2007.
George Metcalf Archival Collection
CWM 20070035-008