Second World War
The Navy Ashore  - Building the Royal Canadian Navy

The Royal Canadian Navy expanded dramatically during the Second World War, acquiring ships and recruiting personnel to meet the constantly increasing demands placed upon it. Ships had to be built, repaired, and maintained, and people recruited, trained, and supported.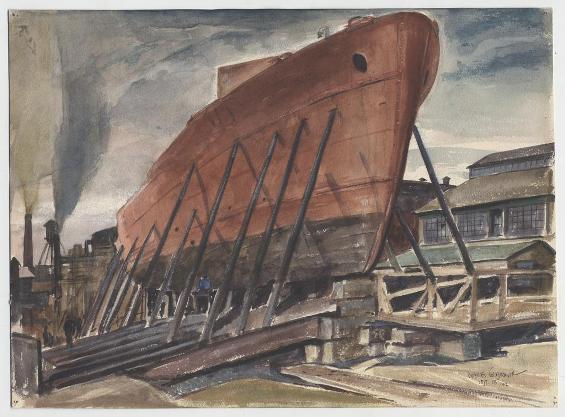 Hull of a Minesweeper under Construction
Charles Goldhamer's 1942 watercolour shows a minesweeper under construction at the Toronto Shipbuilding Company's yards in Toronto, Ontario.
Much of Canada's Second World War shipbuilding occurred in ports along the Great Lakes. At Toronto, naval construction and related industries employed thousands of wartime workers. They produced vessels including Fairmile motor launches, landing craft for amphibious assaults, and more than 50 minesweepers, like the one portrayed here. While many of these ships were built for the Royal Canadian Navy, others were destined for Britain's Royal Navy.
Hull of a Minesweeper under Construction
Painted by Charles Goldhamer in 1942
Beaverbrook Collection of War Art
CWM 19850217-009