Second World War
Battle of the Atlantic  - The Battle of the St. Lawrence

The struggle on the Atlantic between Allied navies and German U-Boats (submarines) brought the naval war into Canada, turning the river and Gulf of St. Lawrence into a battleground. From 1942, German U-Boats sank 23 merchant and naval ships; improvements in anti-submarine defences ultimately stemmed these losses.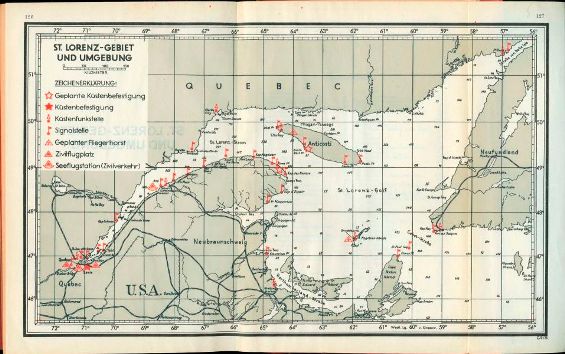 German Map of the St. Lawrence
This 1943 map, providing a general overview of the River and Gulf of St. Lawrence, formed part of a German U-Boat (submarine) navigation handbook.
The legend at the upper left identifies locations including navigation lights and lighthouses (Signalstelle), coastal radio stations (Küstenfunkstelle) and facilities that could help a U-Boat determine its location. It also identifies threats like coastal defence batteries (Küstenbefestigung) and civilian airfields that could serve as bases for Allied military aircraft (Zivilflugplatz).
George Metcalf Archival Collection
CWM 19730174-002_b