The Second World War
War in the Pacific and South East Asia  - The Pacific, the Indian Ocean, and Hong Kong

During the Second World War in the Indian and Pacific Oceans, some Canadians and Canadian ships served with Britain's Royal Navy fighting against Japan. After helping Canadian soldiers reinforce Hong Kong in 1941, the Royal Canadian Navy returned in 1945 and helped repatriate Canadian prisoners of war.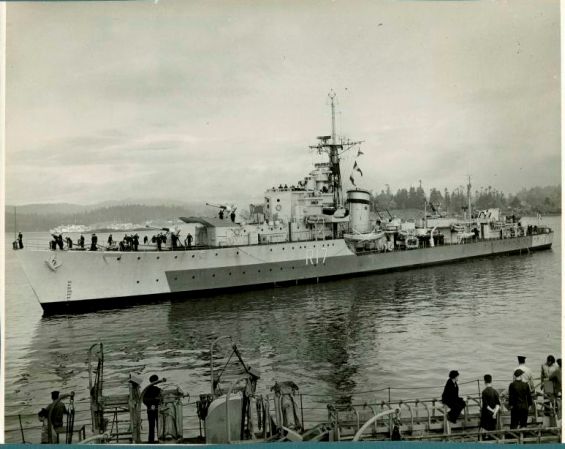 HMCS Algonquin
Destroyers HMCS Algonquin and HMCS Sioux were valuable additions to the Canadian fleet in February 1944.
Slightly smaller and with more of an emphasis on torpedoes than Tribal class destroyers like HMCS Haida, their service in Europe included attacks against German convoys, escort work for Arctic convoys to the Soviet Union, and shore bombardment during the landings in Normandy. Following the May 1945 defeat of Germany, powerful units from the Royal Canadian Navy's Atlantic fleet were redeployed to the war against Japan. Many, like Algonquin, were still in transit when Japan capitulated in August.
George Metcalf Archival Collection
CWM 19900288-005