Naval Traditions and Culture
Naval traditions and culture encompass a wide range of activities, events, and objects, often unique to naval service. Some, like the "crossing the line" (meaning, the equator) ceremony, are old and well-established, while others, such as gun shield art, related directly to Second World War experiences. Many reflect companionship, commemoration, recreation, or esprit de corps.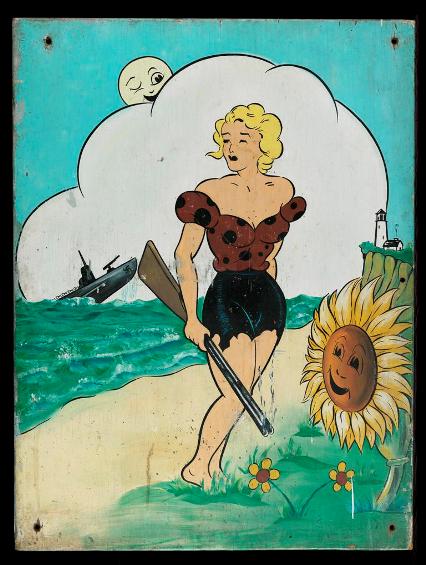 Daisy Mae, HMCS Mayflower
This gun shield art from the Canadian corvette HMCS Mayflower features Daisy Mae, a character from the popular, long-running comic strip Li'l Abner.
Daisy Mae, in her characteristic polka-dot top, has just used a shotgun to sink a German submarine (left), while the sun and a sunflower look on. In addition to featuring a popular comic character, the art also refers directly to one of the ship's nicknames - "Daisy Mae." Sometimes attributed to American cartoonist Al Capp, the painting was more likely created by another artist based on Capp's characters and style.
Daisy Mae
Painted in 1942
Beaverbrook Collection of War Art
CWM 19790005-001