Naval Traditions and Culture
Naval traditions and culture encompass a wide range of activities, events, and objects, often unique to naval service. Some, like the ?crossing the line? (meaning, the equator) ceremony, are old and well-established, while others, such as gun shield art, related directly to Second World War experiences. Many reflect companionship, commemoration, recreation, or esprit de corps.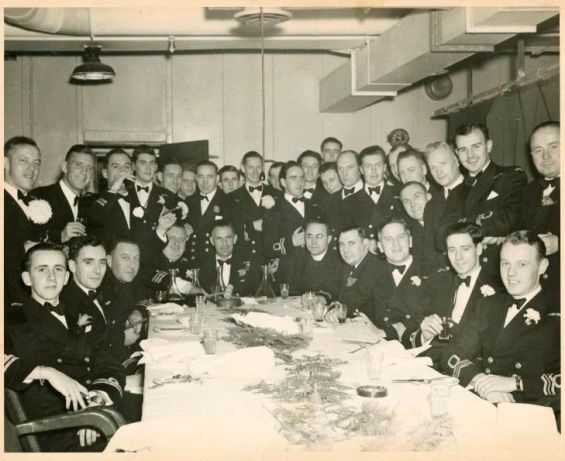 Dining in the Wardroom, HMS Puncher
Taken following a dinner aboard the Canadian- crewed aircraft carrier HMS Puncher, this informal group portrait shows officers in the ship's wardroom.
A living and recreational space for the ship's officers, the wardroom is used to host formal dinners. Taken after the food has been cleared from the table, the photograph captures a number of traditions associated with such dinners, including the passing of port, in decanters like those at the head of the table (centre), for the drinking of toasts. While formal "mess dress" is standard for such dinners in peacetime, these officers are "making do" in wartime by wearing black ties with their service dress jackets.
George Metcalf Archival Collection
CWM 19820422-025