Naval Traditions and Culture
Naval traditions and culture encompass a wide range of activities, events, and objects, often unique to naval service. Some, like the ?crossing the line? (meaning, the equator) ceremony, are old and well-established, while others, such as gun shield art, related directly to Second World War experiences. Many reflect companionship, commemoration, recreation, or esprit de corps.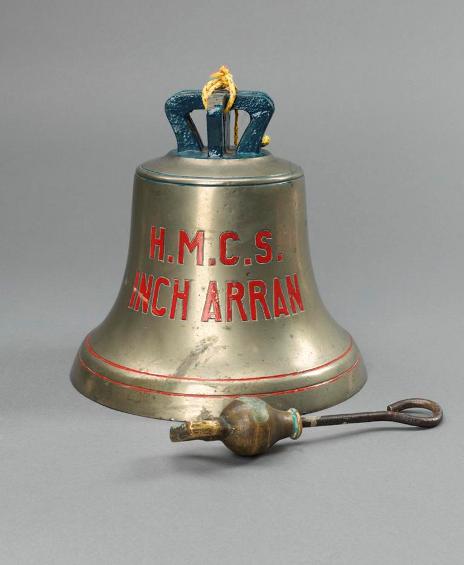 Ship's Bell, HMCS Inch Arran
This bell from the frigate HMCS Inch Arran has the ship's name engraved and picked out in red paint.
The clapper that usually hangs in the bell lies in the foreground. Ships have long used bells to indicate the time to their crews, as well as to signal to other vessels in the fog or at night. Often engraved with the ship's name, the bell has great significance, and is usually preserved as a memento or trophy when a ship is broken up or otherwise disposed of.
Ship's Bell
CWM 19810080-001