Birth of the Navy (1909-1914)
HMCS Rainbow
One of the Naval Service of Canada's first two ships, HMCS Rainbow's duties included the training of sailors and maintaining a naval presence on Canada's Pacific coast. Small and inexpensive to operate, Rainbow was well suited to these purposes, but limited budgets still constrained the ship's activities.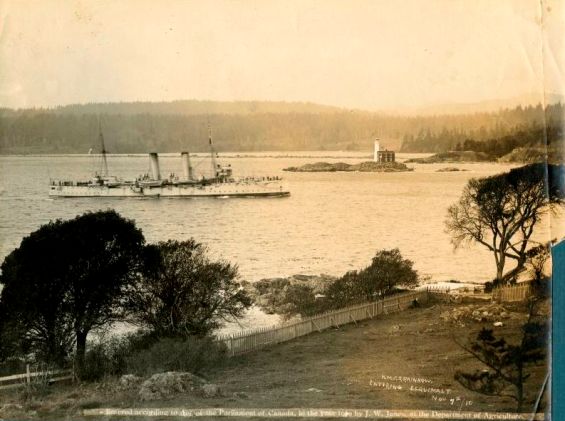 HMCS Rainbow Arriving at Esquimalt, British Columbia, 1910
The arrival of the first Canadian naval vessel on the west coast occasioned ceremony and celebration.
HMCS Rainbow steamed past Esquimalt's characteristic lighthouse (centre right) on 7 November 1910 before firing a 21-gun salute. Esquimalt, formerly an important Pacific port for the Royal Navy, had shrunk in significance for the British as they concentrated ships and other naval resources in the United Kingdom. Rainbow's arrival marked the start of the Canadian navy's century-long presence in force along Canada's Pacific coast.
George Metcalf Archival Collection
CWM 19790602-053