Birth of the Navy (1909-1914)
HMCS Rainbow
One of the Naval Service of Canada's first two ships, HMCS Rainbow's duties included the training of sailors and maintaining a naval presence on Canada's Pacific coast. Small and inexpensive to operate, Rainbow was well suited to these purposes, but limited budgets still constrained the ship's activities.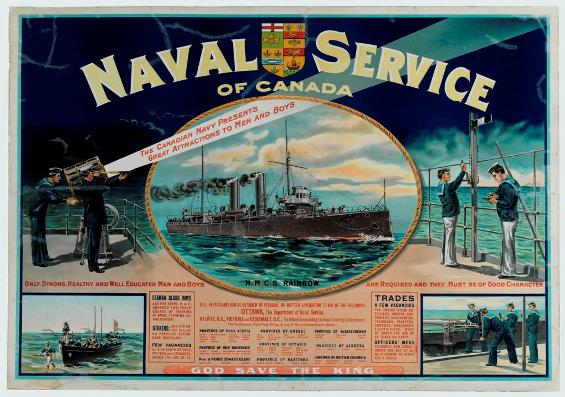 Naval Service of Canada Recruitment Poster
This recruitment poster uses imagery of HMCS Rainbow and various naval trades.
Some of the activities depicted, including signalling and gunnery training, accurately reflect aspects of life aboard Rainbow, but others would prove somewhat exaggerated. Rainbow initially conducted training cruises and fisheries patrols but, from mid-1912, budget cuts and inattention to the navy largely confined Rainbow to local voyages with a skeleton crew.
Naval Service of Canada Recruitment Poster
CWM 19940001-980