First World War (1914-1918)
The Halifax Explosion
In December 1917, a collision between the relief ship SS Imo and the munitions ship SS Mont Blanc in the port of Halifax led to a massive explosion that devastated the harbour and the city, killing thousands.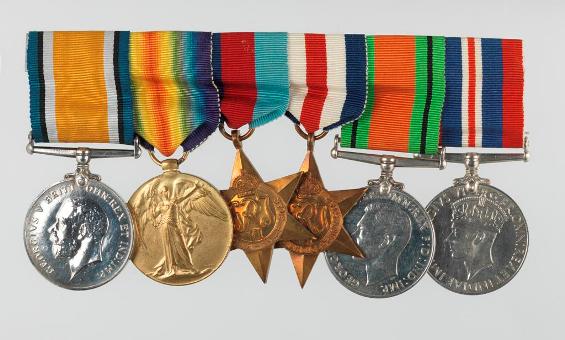 Medal Set, Robert Brett
Robert Benney Brett survived injuries suffered in the Halifax Explosion, and served in the Royal Canadian Navy until 1920.
Brett's medals reflect service at sea in both world wars. After Brett's recovery, he trained, like many other Canadians, in British warships, including the battleships HMS Canada and HMS Barham. In 1920, epilepsy ended his career in the Royal Canadian Navy, but he nevertheless continued an association with the sea. By the mid-1920s, Brett was working for Canadian Shipping Brokers Ltd., in London, England, and during the Second World War served in the British merchant navy.
Medal Set, Robert Brett
Tilston Memorial Collection of Canadian Military Medals
CWM 19800258-001