First World War (1914-1918)
The Home Front
The war at sea affected Canadians in a variety of ways. While extensive recruiting efforts at home sought men to become sailors in the Canadian and British navies, Canadian shipyards built warships and merchant ships to expand Allied navies and to replace vessels lost to submarine attack.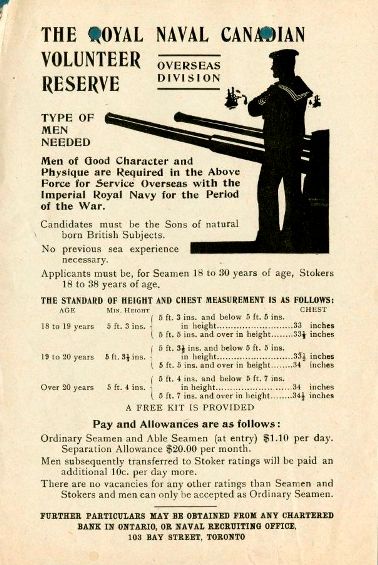 Recruiting Poster, Royal Naval Canadian Volunteer Reserve
This poster, with its image of a confident sailor standing alongside a ship's guns, sought volunteers for the Royal Naval Canadian Volunteer Reserve (RNCVR).
Established in May 1914 and situated in communities across the country, the RNCVR was originally intended to provide sailors for Britain's Royal Navy. This poster sought sailors for "service Overseas with the Imperial Royal Navy for the Period of the War." The RNCVR also provided many of the recruits that permitted Canada's wartime navy to expand rapidly from a mere 350 sailors to over 5,000.
George Metcalf Archival Collection
CWM 19860131-059