Interwar Years
The 1930s: Rebuilding the Royal Canadian Navy
Despite the severe financial climate of the Great Depression and political infighting, the Royal Canadian Navy (RCN) survived mainly as a coastal defence force. This period also saw the delivery of the first major warships designed and built for the RCN.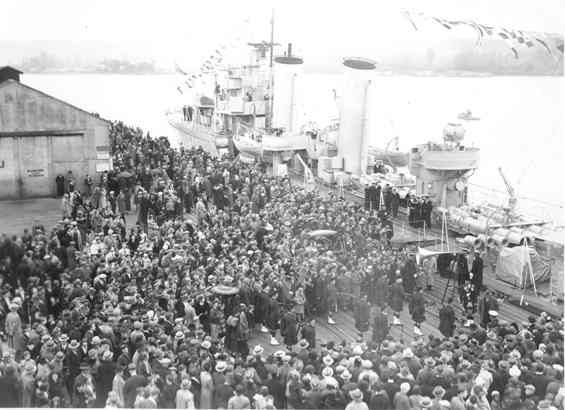 Commissioning of HMCS Fraser, February 1937
A crowd gathers at Chatham, England, for the commissioning of the Canadian destroyer HMCS Fraser on 17 February 1937.
Originally built for Britain's Royal Navy as HMS Crescent, Fraser and HMCS St. Laurent (formerly HMS Cygnet) joined the Royal Canadian Navy in 1937 as replacements for two older British-built destroyers. Similar to HMCS Saguenay and HMCS Skeena, these ships were available more quickly and less expensively than new ships would have been. Their acquisition, followed in 1938 by the purchase of HMCS Ottawa and HMCS Restigouche, was part of a late 1930s defence build-up prompted by growing tensions in Europe.
VR999.758.103
CFB Esquimalt Naval and Military Museum