Interwar Years
The 1930s: Rebuilding the Royal Canadian Navy
Despite the severe financial climate of the Great Depression and political infighting, the Royal Canadian Navy (RCN) survived mainly as a coastal defence force. This period also saw the delivery of the first major warships designed and built for the RCN.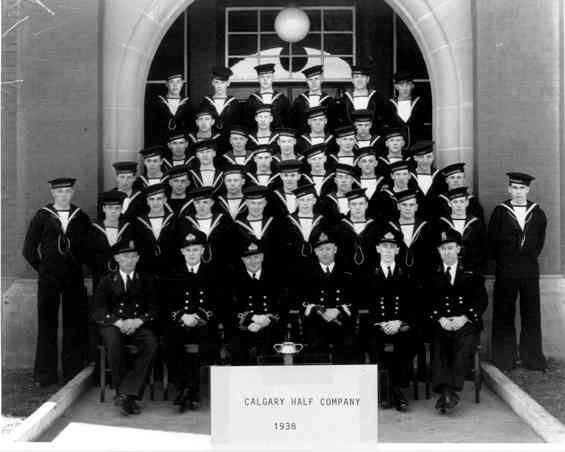 Calgary Half Company, RCNVR, 1938
The Calgary half company of the Royal Canadian Naval Volunteer Reserve (RCNVR) poses for a formal portrait in 1938.
Starting in 1923, the RCNVR established units called "companies" or "divisions" across the country, with some communities like Calgary having smaller units called "half companies" or "half divisions". This practice helped give the Royal Canadian Navy a national presence even when its fleet had been reduced to a bare minimum. Even in provinces like Alberta without an ocean coastline, interest in the RCNVR was usually strong.
VR2002.1.242
CFB Esquimalt Naval and Military Museum