Interwar Years
The 1930s: Rebuilding the Royal Canadian Navy
Despite the severe financial climate of the Great Depression and political infighting, the Royal Canadian Navy (RCN) survived mainly as a coastal defence force. This period also saw the delivery of the first major warships designed and built for the RCN.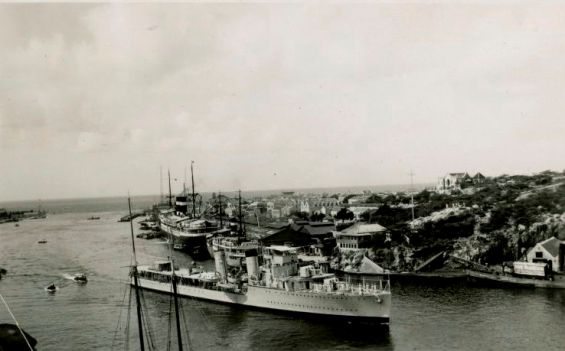 HMCS Saguenay Entering Willemstad Harbour, Netherlands Antilles, 1934
During the 1920s and 1930s, Canadian destroyers like HMCS Saguenay, seen here entering a port in the Caribbean, conducted training exercises with ships from Britain's Royal Navy.
In 1934, destroyers from Canada's east and west coasts, including Saguenay, joined in winter training in the Caribbean. To help protect sailors from the tropical sun, awnings are fitted over the ship's open bridge (centre) and over the decks behind the funnels. A number of Saguenay's crew can be seen around the forward gun, wearing white summer or tropical uniforms.
George Metcalf Archival Collection
CWM 19920085-1016