Interwar Years
The 1930s: Rebuilding the Royal Canadian Navy
Despite the severe financial climate of the Great Depression and political infighting, the Royal Canadian Navy (RCN) survived mainly as a coastal defence force. This period also saw the delivery of the first major warships designed and built for the RCN.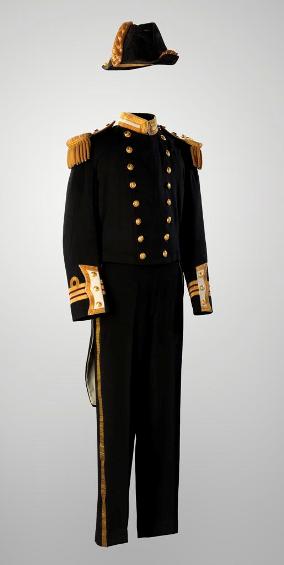 Full-dress Uniform, Commander Frank Llewellyn Houghton
The Royal Canadian Navy's elaborate full-dress naval uniform, with distinctive cocked had and gold epaulets, last saw common use in the interwar period.
This uniform belonged to Frank Houghton, one of the earliest Canadian naval cadets, who served in a variety of duties on land and at sea between the wars. At different times in the 1930s, he was the commanding officer of the destroyers HMCS Vancouver and HMCS Saguenay. While the sleeves of this uniform bear the three rings of a commander, Houghton ultimately rose to the rank of rear admiral before retiring in 1950.
Full-dress Uniform, Commander Frank Llewellyn Houghton

Bicorn Hat, CWM 19710214-018
Tail Coat, CWM 19710214-016
Overalls, CWM 19710214-002
Epaulets, CWM 19710214-017