Interwar Years
The 1930s: Rebuilding the Royal Canadian Navy
Despite the severe financial climate of the Great Depression and political infighting, the Royal Canadian Navy (RCN) survived mainly as a coastal defence force. This period also saw the delivery of the first major warships designed and built for the RCN.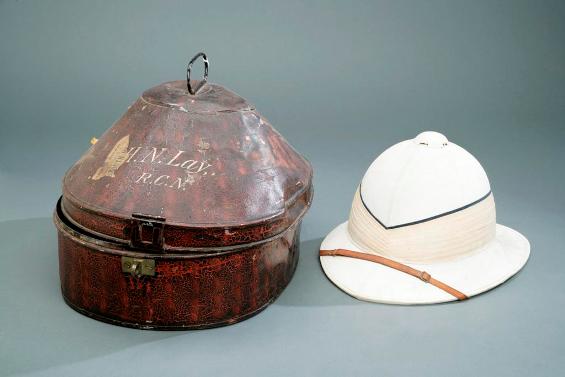 Sun Helmet, Horatio Nelson Lay
This cork sun helmet and its metal case were owned by Horatio Nelson Lay, who served in HMCS Skeena in the early 1930s.
Officers wore such helmets in summer and in the tropics. In January 1932, Skeena and HMCS Vancouver, sailing from British Columbia to training exercises in the Caribbean, were diverted to Acajutla, El Salvador, to protect British interests during an agrarian uprising. Lay commanded a landing party to occupy part of Acajutla's port. Initially called back in the face of Salvadoran opposition, the Canadians later returned to establish temporarily a small fortified position.
Sun Helmet
CWM 19660090-007