Second World War
Battle of the Atlantic  - The U-Boats Surrender

With Germany's defeat in May 1945, its U-Boats (submarines) were required to surrender to Allied forces. The Royal Canadian Navy was involved in the surrender of U-Boats in European waters, while U-190 and U-889, surrendering to Canadian forces in the Western Atlantic, were brought to ports in Newfoundland and Nova Scotia.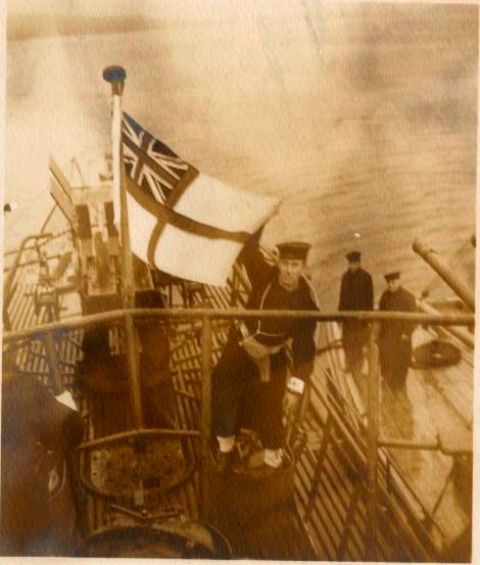 Under Canadian Control
A Canadian sailor poses aboard U-889 with the Royal Canadian Navy's White Ensign.
Although spotted by a Canadian aircraft and intercepted by Canadian ships on 10 May, poor weather delayed U-889's official surrender until the 13th, when the submarine arrived at Shelburne, Nova Scotia. As part of the surrender, Canadian sailors hoisted the White Ensign on the U-Boat's flagstaff. The sailor wears the insignia of the naval police, including a white cuff with "NP" and white gaiters covering his ankles. His holstered pistol is attached to a lanyard that passes around his neck.
George Metcalf Archival Collection
CWM 20070014-017