Second World War
Battle of the Atlantic  - The U-Boats Surrender

With Germany's defeat in May 1945, its U-Boats (submarines) were required to surrender to Allied forces. The Royal Canadian Navy was involved in the surrender of U-Boats in European waters, while U-190 and U-889, surrendering to Canadian forces in the Western Atlantic, were brought to ports in Newfoundland and Nova Scotia.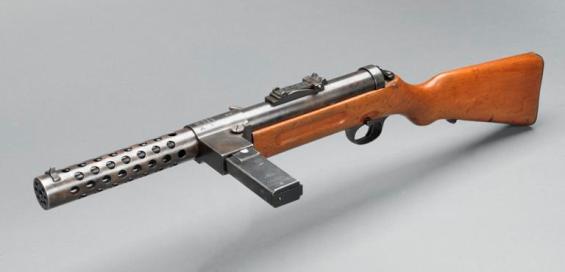 MP28/2 Sub-machine Gun
Canadian sailors took this weapon from the German U-Boat (submarine) U-190 after its May 1945 surrender.
In addition to torpedoes and anti-aircraft guns, U-190, like other U-Boats, carried firearms for its crew. Sub-machine guns like this MP28/2 combined a relatively small size with a high rate of fire. Following its seizure, this particular weapon was displayed at Naval Service Headquarters in Ottawa until 1959, when the navy transferred it to the Canadian War Museum.
Sub-machine Gun, MP28/2
CWM 19590008-001