The Second World War
War in the Pacific and South East Asia  - The Pacific, the Indian Ocean, and Hong Kong

During the Second World War in the Indian and Pacific Oceans, some Canadians and Canadian ships served with Britain's Royal Navy fighting against Japan. After helping Canadian soldiers reinforce Hong Kong in 1941, the Royal Canadian Navy returned in 1945 and helped repatriate Canadian prisoners of war.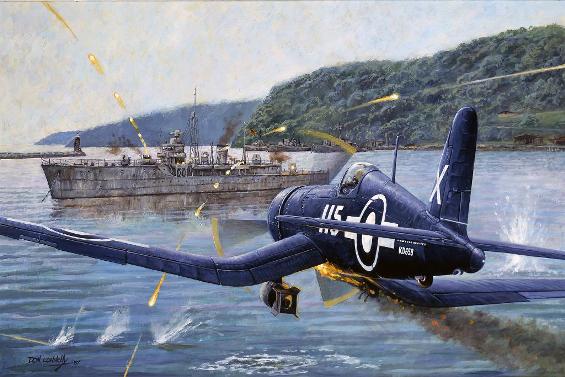 Finale
For his actions against the Japanese, Lieutenant Robert Hampton ("Hammy") Gray became the only member of the Royal Canadian Navy to be awarded the Victoria Cross.
On 9 August 1945, flying off the British carrier HMS Formidable, Gray led a flight of Corsair fighter-bombers into Onagawa Bay, Japan. With his aircraft riddled by anti-aircraft fire from the shore and from warships in the bay, Gray pressed home an attack on the Japanese ship Amakusa. Flying to within 50 metres of the ship, Gray sank it with a 500-pound bomb, but his badly damaged and burning aircraft crashed moments later, killing him.
Finale
Painted by Don Connolly in 1987
Beaverbrook Collection of War Art
CWM 19880046-001