Second World War (1939-1945)
The Navy in European Waters  - The Arctic Convoys and Scandinavia

Following the Soviet Union's entry into the war against Germany, the western Allies established convoys carrying much-needed supplies to Soviet Arctic ports, most notably Murmansk. Canadian ships participated in these convoys, and also visited Scandinavian countries in the wake of Germany's surrender.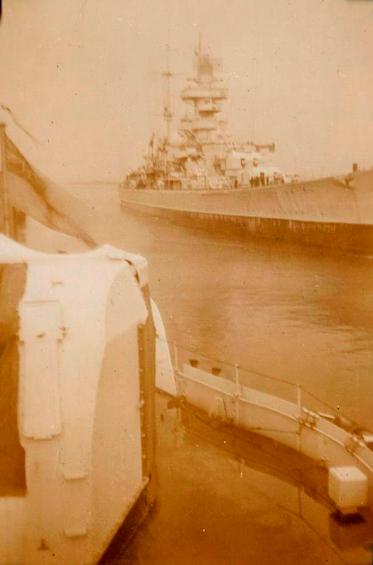 HMCS Iroquois Escorting Prinz Eugen
HMCS Iroquois' last mission in European waters was to help escort the surrendered German heavy cruiser Prinz Eugen (right).
This photograph shows one of Iroquois' 4.7-inch gun turrets and the ship's White Ensign (left) with the hulking German cruiser in the background. Iroquois formed part of the escort when the German ships Prinz Eugen and Nurnberg, the only German cruisers still operational, were ordered from Copenhagen, Denmark to Wilhelmshaven, Germany. Iroquois' arrival in Wilhelmshaven made it the first Canadian ship to visit a German port following the German surrender.
George Metcalf Archival Collection
CWM 20020039-001_p50e