The Second World War
The Merchant Navy  - SS Stanley Park: Merchant Ship

David McMillan's photographs capture wartime and early postwar merchant navy scenes and experiences, mainly aboard the Canadian merchant ship SS Stanley Park. Completed in mid-1943, the Stanley Park was one of around 400 merchant ships built as part of Canada's war effort; postwar, it served with a number of foreign owners until its 1969 scrapping in Italy.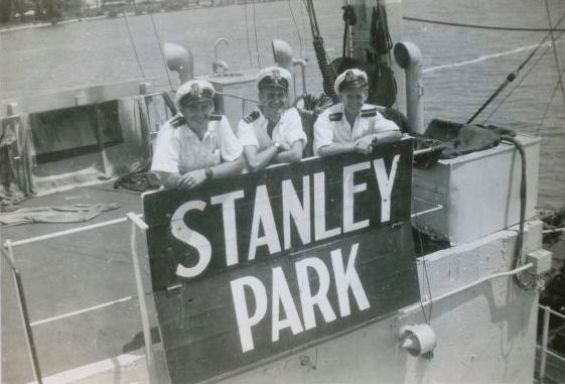 Officers aboard SS Stanley Park
Officers of the merchant ship SS Stanley Park pose behind one of the name boards identifying their vessel.
Taken in October 1945 in Freetown, Sierra Leone, the photograph shows officer cadets Bob Pethick (left) and Doug McPherson (right). In the middle is David McMillan, who kept this and other photographs recording his wartime experiences. All three wear white uniforms intended for the tropics or hot summer weather. Name boards like Stanley Park's, hinged in the middle, were kept folded while the ship was at sea and were only opened when it came into port.
George Metcalf Archival Collection
CWM 19860141-045