The Later Cold War
A Changing Fleet
Canada's navy changed and shrank in the latter part of the Cold War, but continued to face threats and meet alliance obligations. Despite the addition of some newer vessels, by the late 1970s it faced "rust-out" due to the gradual deterioration of ships and equipment.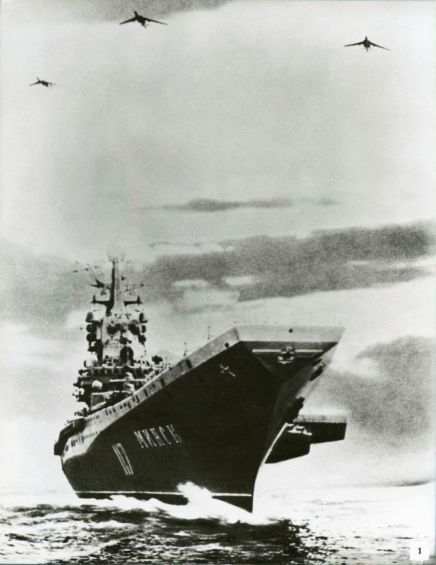 Soviet Aircraft Carrier and Bombers
This official Soviet photograph shows the aircraft carrier Minsk and three Tupolev Tu-16 bombers (top).
Both formed part of Soviet naval forces that posed an increasing threat to North Atlantic Treaty Organization (NATO) forces in the latter part of the Cold War. Entering service in the late 1970s, the Minsk was a combination of a cruiser, with a heavy missile armament, and an aircraft carrier, with a flight deck partially visible on the right. The Tu-16 bomber saw extensive service with Soviet forces, including the navy, and could carry long-range, high-speed anti-ship missiles.
George Metcalf Archival Collection
CWM 19820577-001_1