The Later Cold War
A Changing Fleet
Canada's navy changed and shrank in the latter part of the Cold War, but continued to face threats and meet alliance obligations. Despite the addition of some newer vessels, by the late 1970s it faced "rust-out" due to the gradual deterioration of ships and equipment.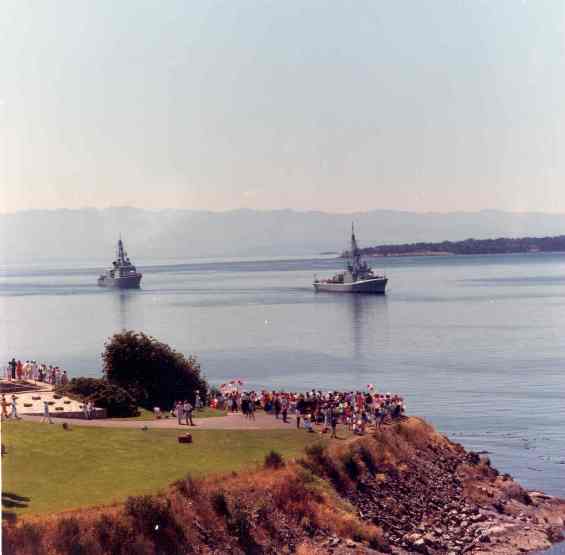 HMCS Huron and HMCS Kootenay, 1990
The Canadian destroyers HMCS Huron (left) and HMCS Kootenay (right) return to Esquimalt, British Columbia, in 1990.
Family, friends, and loved ones (foreground) gather to greet the ships and sailors as they return home. By this time, Esquimalt had been a Canadian naval base for 80 years, and ships based there had been directly involved in Cold War and Korean War operations. In the summer of 1990, however, Huron, and Kootenay, along with HMCS Annapolis and HMCS Provider, were the first Canadian warships to visit the Soviet port of Vladivostok since the end of the Second World War, a sign of the Cold War's imminent end.
VR995.56.63
CFB Esquimalt Naval & Military Museum