The Later Cold War
A Changing Fleet
Canada's navy changed and shrank in the latter part of the Cold War, but continued to face threats and meet alliance obligations. Despite the addition of some newer vessels, by the late 1970s it faced "rust-out" due to the gradual deterioration of ships and equipment.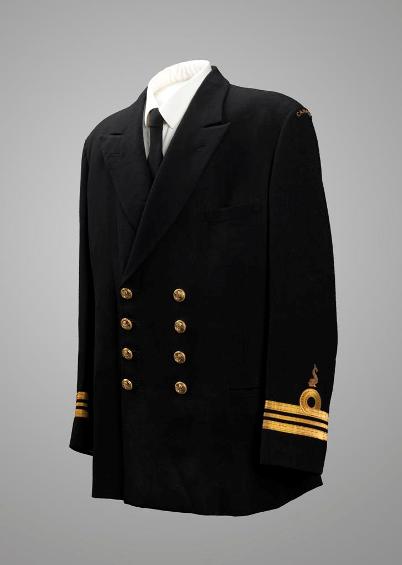 Uniform, Lieutenant Commander Edward Ross Murray
This uniform jacket belonged to Lieutenant Commander Edward Ross Murray, an engineer involved with the submarine HMCS Onandaga from 1966 to 1968.
The jacket has "Canada" shoulder titles (top right), as well as stripes near the cuffs indicating Murray's rank (bottom left and right). Most notably, its left sleeve bears the dolphin insignia introduced in 1961 for Canadian personnel who had qualified as submariners (bottom, above stripes). Canadians share this dolphin motif with qualified submariners from other navies, including the United States Navy and Britain's Royal Navy, although the insignia and badges differ in details and design.
Service Dress Jacket, Lieutenant Commander Edward Ross Murray
CWM 19820210-002