The Later Cold War
A Changing Fleet
Canada's navy changed and shrank in the latter part of the Cold War, but continued to face threats and meet alliance obligations. Despite the addition of some newer vessels, by the late 1970s it faced "rust-out" due to the gradual deterioration of ships and equipment.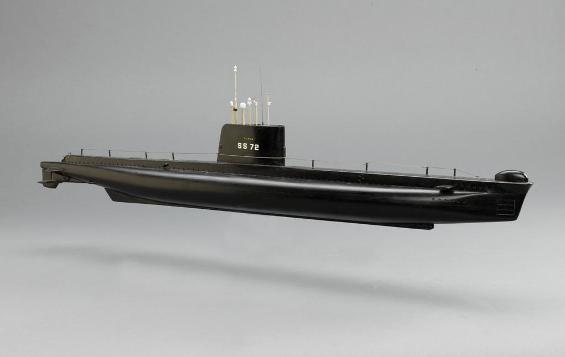 HMCS Ojibwa Model
This model of HMCS Ojibwa shows many details of the submarine's construction and equipment usually hidden below the sea's surface.
The conspicuous bulge on top of Ojibwa's bows (right) contains sonar equipment for detecting and attacking targets, while rectangular doors below cover torpedo tubes. Horizontal diving planes near the bow (right) and stern (left) help the submarine dive, surface, and control its depth underwater. Ojibwa's large fin (centre), sometimes referred to as a conning tower or sail, holds a bridge area at its front for commanding the submarine on the surface, and also houses various retractable masts for periscopes, radar antennas, and other equipment.
Model Submarine, Oberon Class
CWM 19730062-001