The Later Cold War
A Changing Fleet
Canada's navy changed and shrank in the latter part of the Cold War, but continued to face threats and meet alliance obligations. Despite the addition of some newer vessels, by the late 1970s it faced "rust-out" due to the gradual deterioration of ships and equipment.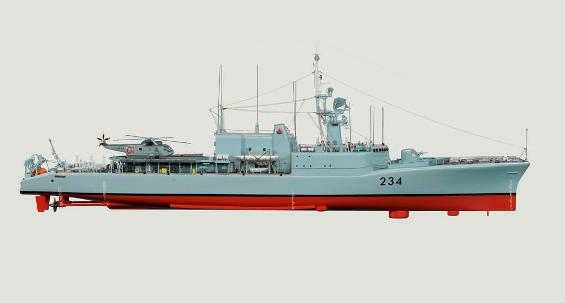 Model, HMCS Assiniboine
This model of HMCS Assiniboine shows some of the substantial changes made to many Canadian warships in the 1960s.
Assiniboine, extensively rebuilt in the early 1960s, was one of seven St. Laurent class destroyer escorts delivered to the Royal Canadian Navy in the 1950s. Substantial changes to the after part of the ship (left) included a helicopter landing pad and hangar (centre left and centre), and a rebuilt stern to handle the Canadian-designed variable depth sonar and its handling equipment (far left).
Model Ship, St. Laurent Class Destroyer Escort
CWM 20080056-003