This section brings together the approximately 700 objects and photographs used in Canada's Naval History. Use this section to directly access objects and photographs grouped by type, as shown below, or use the search function above to search through them by title.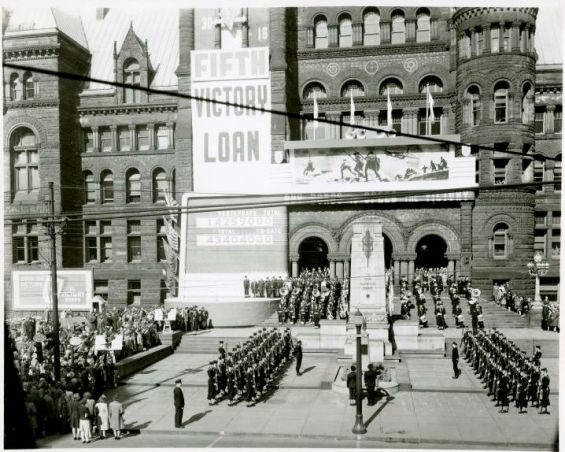 Fifth Victory Loan, 1943
In this October 1943 photograph, a Royal Canadian Navy band and honour guard help promote the Fifth Victory Loan.
While the band stands on the steps of Toronto's city hall, the honour guard stands to either side of the city's cenotaph (centre right). Large signs on the city hall report on Victory Bond sales, while two 20mm Oerlikon cannon (centre left, with gun shields) are displayed as examples of naval equipment. The Royal Canadian Navy took part in many events like this, designed to encourage public contributions to financing the country's war effort.
George Metcalf Archival Collection
CWM 20000224-041