This section brings together the approximately 700 objects and photographs used in Canada's Naval History. Use this section to directly access objects and photographs grouped by type, as shown below, or use the search function above to search through them by title.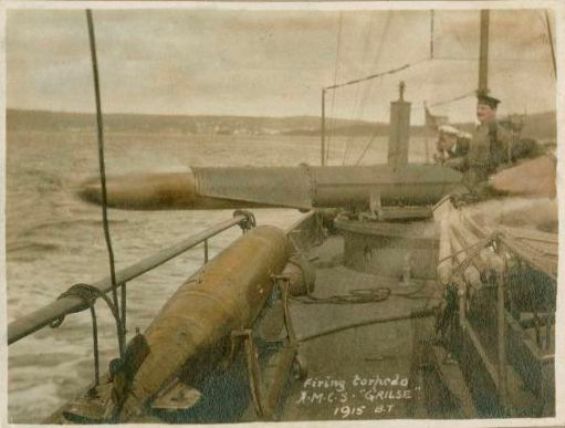 HMCS Grilse Firing a Torpedo, 1915
This rare colourized photograph captures the launch of a torpedo from HMCS Grilse, a civilian yacht converted to a quick torpedo boat for patrol and escort duties.
The torpedo tube seen here (centre) and two 12-pounder guns were the ship's main armament. Like the guns, the torpedo tube could be rotated to aim the weapon at enemy ships. A spare torpedo for reloading the tube can be seen in the foreground. By the time of this photograph, newer, larger and more powerful torpedoes were in widespread service, but Grilse's 14-inch models could still inflict significant damage.
George Metcalf Archival Collection
CWM 19940001-948_1