This section brings together the approximately 700 objects and photographs used in Canada's Naval History. Use this section to directly access objects and photographs grouped by type, as shown below, or use the search function above to search through them by title.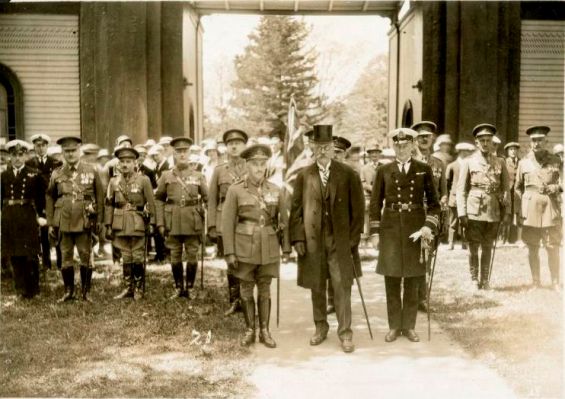 Lieutenant Governor Tory Taking the Salute
The Lieutenant Governor of Nova Scotia, James C. Tory, stands ready to take the salute from service personnel during an official ceremony.
Tory (in top hat) is flanked by Major-General H.C. Thacker (left), commander of the local military district, and by Lieutenant-Commander Leonard W. Murray (right). Murray, dressed in the frock coat appropriate to formal events, was posted to Halifax between 1925 and 1927. Like other Canadian naval officers in the 1920s, Murray spent time both in Canada and on British ships, and later in 1927 would be posted to the British battlecruiser HMS Tiger.
George Metcalf Archival Collection
CWM 19750559-009_p25