Flight-Lieutenant Aba Bayefsky enlisted in the RCAF in October 1942 at the age of 19. After service in Quebec and Manitoba, he was posted overseas in May 1944 to Skipton-on-Swale Station, Yorkshire, in No. 6 Bomber Group. Appointed an official war artist in December of that same year, he completed assignments at Topcliffe Conversion Unit in Yorkshire and 437 (Transport) Squadron, Blakehill Farm, Wiltshire.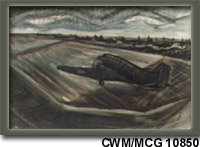 Dakota on Runway prior to Takeoff
He was then attached to No. 39 (Reconnaissance) Wing of the RAF's Second Tactical Air Force, which disbanded in Lüneberg, Germany, in August 1945. It was during this period that he visited Bergen-Belsen, and depicted the war-damaged cities of Hamburg, Niemunster, and Hanover.
| | |
| --- | --- |
| | |
| Destruction - Hamburg | Destruction - Hanover |
Bayefsky's experiences in Europe had been disturbing. At odds with the establishment, he found it difficult to settle down in Toronto.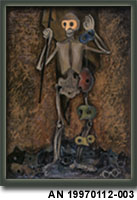 Recruiting Poster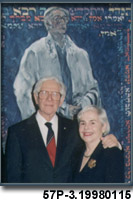 In 1980 Bayefsky painted a self-portrait to commemorate his return to health after an operation. Surrounding the canvas are the Hebrew words of the Kaddish, the prayer for the dead. The compositional format in this painting reappears in his most powerful Holocaust work, Remembering the Holocaust. Surrounding the monochromatic figure of the "Grim Reaper" and the mutilated bodies that form its crop are the names of the major concentration camps of the Second World War. Flame-like forms rise behind the murderous creature, and the whole scene is convulsed with the kind of frenzy that is also present in Michelangelo's Last Judgement.
"Art and social comment go hand in hand. As examples, Goya dealing with the Inquisition and Picasso's most famous painting of the Spanish Civil War called Guernica." (1)
| | |
| --- | --- |
| | |
| Remembering the Holocaust | All Quiet on the Western Front |
The artist's anger is barely controlled and rooted in his personal reactions to anti-Semitism, to revisionist historians, and to the obliteration of the facts of the Holocaust. He feels a moral obligation to speak in paint, as it were, for those who cannot.

Aba Bayefsky has not found it easy to exhibit his Holocaust works, nor has any institution - other than the Canadian War Museum - or private collector showed much interest in acquiring them. The Museum has collected all of them because we believe they form an important body of work in Canadian art, and because the message they convey is significant to our civilization and is one with which we agree.