Internationally recognized as one of Canada's leading artists, Alex Colville spent most of his youth in Amherst, Nova Scotia, and later attended nearby Mount Allison University in Sackville, New Brunswick. After graduation he joined the Canadian Army and was appointed a war artist. Upon arriving in London, Colville was stationed with a supply unit in Yorkshire. He subsequently travelled to the Mediterranean, Belgium, the Netherlands, and Germany. In 1946 he returned to Mount Allison as a teacher. Following his retirement in 1963, Colville devoted all of his time to painting. He moved to Wolfville in 1973 and from 1981 to 1991 served as Chancellor of Acadia University.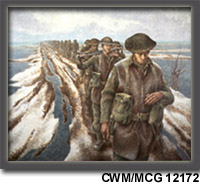 Infantry, near Nijmegen
Fifteen separate sketches can be associated with this work. (View Sketches)
The final composition was not the one the artist initially chose to develop.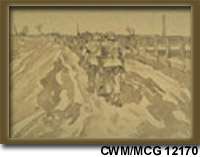 Infantry
Six works on paper in the Museum's collection can be associated with Bodies in a Grave. Four drawings directly relate to this painting and two progressed no further.
The watercolour study features the yellow background that appears in the final painting. The presence of two left arms for the upper figure in this work shows that Colville had not resolved the hand position. In the final painting this detail is resolved in a manner not present in any of the sketches. (View Sketches)
| | |
| --- | --- |
| | |
| Bodies in a Grave | Sketch |