Comfort's war began in October 1939 when he became a rifle instructor with the Canadian Officers' Training Corps. In February 1943 he was commissioned as a lieutenant in the Canadian Active Service Force to serve as an official war artist. He had supported the idea of a war art program from the beginning in the full knowledge that Canada had successfully pioneered such a scheme during the First World War.
In England Comfort depicted the Corps of the Royal Canadian Engineers and the 16th Battery, Light Anti-Aircraft Regiment. In Italy he joined the 1st Canadian Infantry Division, painting principally the Ortona and Liri Valley battles. The artist later published his war diaries in a volume entitled Artist at War (1956).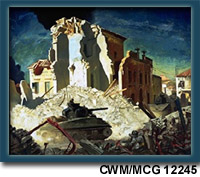 Canadian Armour Passing through Ortona
From 1960 to 1965 Comfort served as director of the National Gallery of Canada. While the National Gallery had had custody of the War Art Collections since 1946, it was only under Comfort that a Curator of War Art was appointed. During that time Comfort's commitment to war art showed itself in the funds made available for the proper storage and care of the collections and in the many important acquisitions in which he was personally involved.
Some of the most popular Canadian paintings of the Second World War are Comfort's work. These include The Hitler Line, a dramatic subject based on the artist's experiences in the Italian campaign, which hangs permanently in the Canadian War Museum. Comfort's careful reconstruction of the events of the ill-fated Dieppe Raid is another well-known composition.
| | |
| --- | --- |
| | |
| Dieppe Raid | Sketches/Dieppe Raid |
It is in the many watercolour sketches completed near the field of battle, however, that we see the artist's response to war.