Commander Anthony Law, DSC, RCN was one of Canada's most notable naval official war artists of the Second World War. He was unique in that he served as a naval officer throughout the conflict and in the period after the war. He retired in 1966. During his long and distinguished career as a naval officer he also worked as a professional artist.
As a young man in the early war years, he served on a number of motor torpedo boats in the English Channel, and was involved in the action against the German battlecruisers Scharnhorst and Gneisenau in 1942. In this period he still found time to paint, usually when ashore during refits. In 1943, for example, he received a temporary assignment that enabled him to record some of Canada's more notable vessels, including HMCS Haida, Chaudière, Huron, and Restigouche.
The Canadian War Museum collection includes some exuberant sketches of Law's shipmates, the vessels on which he served, and the ports he visited during this period.
| | |
| --- | --- |
| | |
| HMCS Haida | HMCS Huron |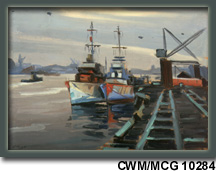 HMCS Restigouche
Law's response to how he painted the war at sea was recorded in an interview he gave to the Quebec Chronicle-Telegraph in December 1943. When asked how he could recall subjects clearly after periods of heavy action, he responded in some detail.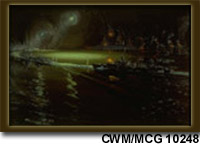 Canadian Tribal Destroyers in Action
"Certain subjects, phases of battle, for instance, form unforgettable scenes in one's mind. Such as lovely designs of star shells, flak and the horrors of war, ships sinking or on fire. Highlights of action sometimes cannot be forgotten for a long time. I remember a certain night when we met a large enemy convoy heavily escorted. They put twelve star shells into the sky that was looking so beautiful. It was just like the 24th of May. That was the subject of my painting showing our boats in the middle of the night, with all the details shown because of the brilliant light coming from the star shells. And as the battle was progressing, dawn broke east and we could see the enemy convoy ships silhouetted against the horizon. That was a scene that I can still see today in my mind. It was simply unforgettable. And it was easy to reproduce it on the canvas."(1)
Canadian Infantry (Light) in a Mock Landing
The painting described is likely that depicting the action against the Scharnhorst and the Gneisenau in 1942, referred to earlier.