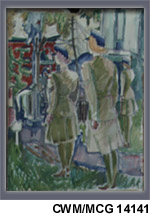 Air Women Raise Ensign
The war art of Pegi Nicol MacLeod is very different from that of the majority of her Second World War contemporaries. Brash and colourful, much of its subject matter centres on Canada's servicewomen cleaning, cooking, washing up, and serving as well as participating in the drills and parades central to life in the women's services.
"War records would be most incomplete without some vital stuff on the women's part in the three services."
| | |
| --- | --- |
| | |
| Salmon in the Galley | Stew and Stewards |
| | |
| --- | --- |
| | |
| Swabbing Down the Decks | Dish Mountain |
Hers is the only painted record of any substance that depicts what it was like to be a woman in uniform in wartime Canada. This record is paralleled by MacLeod's attempt to capture the war experience as it reflected her home and professional life.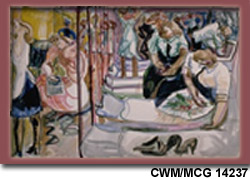 Wrens Dormitory
(HMCS Carleton was, and still is, on Dow's Lake in Ottawa.)
MacLeod's work represents a record of the 17,000 women who served in the RCAF (WD), the 21,600 who served in the CWACs, and the 7,000 Wrens.