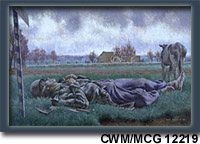 Tragic Landscape
Its genesis lies in a number of sketches, studies, and watercolours, different parts of which were gathered together in the final picture. (View Sketches)
Exhausted Prisoners, a 30-by-40-inch (76 x 102 cm) oil painting, confirms the important role of the creative process in the genesis of war art. There are nine drawings associated with this composition: six relate to the figures of the prisoners, either singly or as a group; two find their subject in the artillery piece in the background, and one, Armed Cars in Nijmegen, provides the background ruins and, interestingly, the vehicle that appears in the right foreground of The Nijmegen Bridge.
| | |
| --- | --- |
| | |
| Exhausted Prisoners | Armed Cars in Nijmegen |
A complete contrast to the development of these major oil paintings is found in the watercolour painting London Bridge. This work stands alone as a composition in its own right and was never developed into an oil painting. The few sparse lines of the preliminary drawing show that Colville could identify and capture the complete content of a final composition in minutes.

| | |
| --- | --- |
| | |
| London Bridge | Sketch for London Bridge |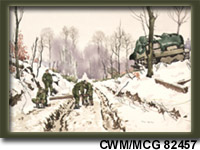 Cutting Firewood near Nijmegen
In the watercolour Cutting Firewood near Nijmegen, it is clear from the studies that questions of compositional balance preoccupied the artist. The figurative group to the left, the vehicle to the right, and the basic landscape elements are rearranged three times in some swiftly drawn sketches that are part of the Museum's collection. (View Sketches)
The absence of any oil paintings associated with these two works suggests that the artist could find no more to say about those subjects and chose not to develop them further. Not every drawing from the war years provided him with the inspiration necessary to move into oil. And it was with the oil paintings that Colville demonstrably progressed from being an artist who recorded what he saw (as in London Bridge) to one who grasped the significance of what he saw and was able to muster his artistic and imaginative resources to capture it on canvas (as in Infantry, Near Nijmegen). This is not to say that London Bridge or Cutting Firewood near Nijmegen are not good paintings, but rather to suggest that they have, as subjects, not been transformed by the artist's moment of vision.
Colville recognizes that not all subjects can become great paintings. Sometimes the subject itself is limiting and at other times the artist himself feels he cannot do it justice. In a recent CBC interview Colville admitted that he had been overwhelmed by what he witnessed at Belsen and had not felt able to deal adequately in paint with the enormity of what he saw.