Twenty-six lives were lost in what is considered the greatest disaster in the history of the Coastal Force. A fire had broken out in one vessel, which ignited the gasoline and ultimately caused the on-board torpedoes to explode. It is likely that Law's appointment as an official war artist shortly after this tragic event was the result of the loss of his ship and flotilla. It is also probable that his sense of loss influenced his choice of subject matter and the mood of his paintings. Certainly, he was soon composing pictures that record the decommissioning of Canada's corvette fleet.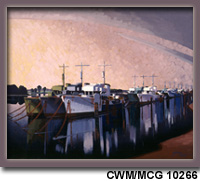 Graveyard Sorel, P.Q.
A special melancholy pervades the picture, enhanced by its dominant colours of purple and yellow, symbolic of Easter and of sacrifice.
While earlier pictures painted before the disaster such as Windy Day in the British Assault Area are filled with joie de vivre and a youthful confidence, the later ones featuring motor torpedo boats often focus on adversity, tragedy, and the fickleness of nature. The Gale of Hurricane Force on the Normandy Beach details the destruction wrought on landing craft and the Mulberry artificial harbour by a terrible three-day storm which began on 19 June 1944, 13 days after D-Day.
| | |
| --- | --- |
| | |
| Windy Day in the British Assault Area | The Gale of Hurricane Force on the Normandy Beach |
Survivors, Normandy, off Le Havre records the rescue operation after a sister vessel was blown up. The work is characterized by the violent red-gold flames of the burning ship, which reflect off the water and onto the wounded sailors.
Survivors, Normandy, off Le Havre
In total, Law contributed 29 large paintings and 75 oil sketches to the official record of Canada's navy during the Second World War, a collection now housed at the Canadian War Museum.
A distinguished postwar naval career included an appointment as second-in-command of the Arctic patrol ship Labrador. The artist's retirement featured active volunteer support for a number of arts organizations including the Art Gallery of Nova Scotia and Saint Mary's University Art Gallery. A series of exhibitions of his paintings, some in partnership with his artist wife, Jane Shaw, rounded out a busy artistic career. All this notwithstanding, Tony Law's chief legacy is to be found in his paintings, which record the deeply felt and observed experiences of a life fully lived.