The First World War 1914-1918
The First World War pitted Germany, the Austro-Hungarian Empire and other nations against Great Britain, France, Russia and their allies. As a colony of Great Britain, Canada was automatically at war. Almost totally unprepared for battle in 1914, Canada enrolled 625,000 military personnel by 1918. Most served in the Canadian Corps, which became one of the foremost fighting formations. The cost, however, was enormous: of the Canadians serving overseas, one in seven died.
The western world during the First World War. The western front runs through northern France and Belgium. This is where most Canadians fought.
[ view map ]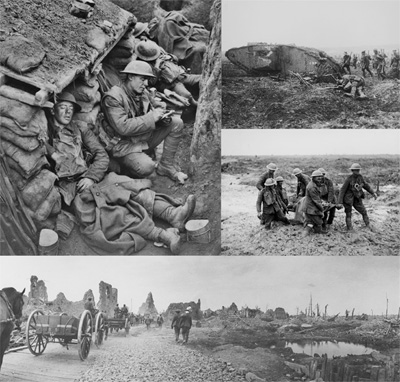 National Archives of Canada PA 2468
National Archives of Canada 0-4429
National Archives of Canada N 135
National Archives of Canada O-3152

"Canadians marched to Armageddon in 1914. Those who returned were transformed by the experience."
— Desmond Morton and J. L. Granatstein, Marching to Armageddon: Canadians and the Great War, 1914–1919
Chronology
August 1914 First World War begins
October 1914 First group of Canadian soldiers arrives in Great Britain
April 1915 Second Battle of Ypres begins
September 1916 Battle of Courcelette, part of the Somme offensive
November 1916 Canada's war art program begins, first artists hired
April 1917 Canadians capture Vimy Ridge
June 1917 Canadian Sir Arthur Currie commands Canadian Corps
October 1917 Canadians begin attack at Passchendaele
August 1918 Start of the final victory offensive known as The Hundred Days
November 1918 First World War ends
June 1919 Peace treaty signed at Versailles, France
December 1920 Lord Beaverbrook gives nearly 1,000 works of art to Canada
July 1936 Vimy Memorial unveiled in France

---