Previous
| Next
The End of the War
"We shall now eagerly await the triumphant return of those who have fought the fight of freedom on the sea, on land and in the air, and who have survived the vicissitudes of war. What a welcome will be theirs! As long as they live, their welfare should be our first concern. Especially must we look to the well-being of the dependents of those who will never return. We must endeavour to see that no service and no sacrifice is allowed to go unremembered."
— Prime Minister William Lyon Mackenzie King, May 8, 1945, the day the war in Europe ended.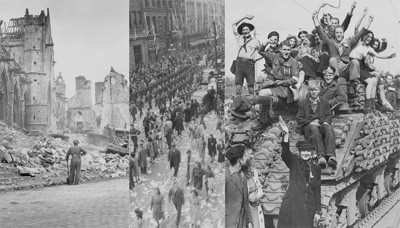 National Archives of Canada DND Army 38765
National Archives of Canada Z 3848-28
National Archives of Canada DND Army 51672

"This is what we must tell the youth: the sacrifices these young Canadian soldiers freely gave for us. . . . they will always be remembered."
— Gerard Adriaenssens, a Belgian liberated in 1944 by Canadians
Did the war affect Canadian art?
By the end of the war, the work of Canada's war artists had contributed to the renewed interest in the quality of Canadian art as a whole. This interest led to the establishment in 1949 of the Royal Commission on National Development in the Arts, Letters and Sciences. Chaired by Vincent Massey, the driving force behind Canada's Second World War art program, the Commission produced a report that remains the basis of Canadian cultural policy.

---