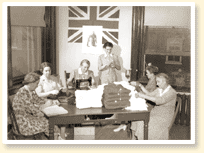 Volunteers make warm clothing to send to military personnel on the fighting front
Photo : National Film Board
Life on the Homefront
The war coloured almost every aspect of day-to-day life in Canada. Towns and cities bustled with activity as factories converted to round-the-clock production of military equipment. ( see Munitions ) New industries sprouted into existence, as did vast air force, naval and army bases. Streets teemed with military personnel -- not just Canadians, but also thousands of personnel from around the world. The war was also omnipresent in the media. Radio, movie houses, newspapers, magazines featured constant news updates, and advertisements from the government and citizens groups promoting the war effort. ( see Information, Propaganda, Censorship and the Newspapers )
Canadian seaports and coastal airports, crucial for the shipment of North American supplies to the fighting fronts, played a key role in the war at sea. ( see Shipping and Shipbuilding ) Enemy naval forces came close to British Columbia, and even closer to the Atlantic provinces and Quebec. On the east coast scores of German submarines sank more than a hundred ships, many within sight of shore. ( see The Battle of the Atlantic ) Lights in coastal communities were blacked out, and volunteers trained to assist the police, fire departments and hospitals in the event of enemy attack. Volunteers in remote coastal areas worked as observers for the military to warn about enemy activity in the air and at sea.
Across the country many people too young or too old, or not physically qualified for active military service joined student cadet and reserve military units to carry out evening and weekend service. Most community groups and religious faiths performed volunteer work - knitting warm woollen clothing, collecting books and newspapers, or baking cookies and other treats to send to the men and women serving at the fighting fronts ( see Women and the War on the Home Front )
These efforts reflected a personal bond between the population and the war effort. Nearly one Canadian in ten enlisted for full-time service in armed forces so that almost everyone still at home had a family member or friend in uniform. News of the hundreds or thousands of Canadian servicepeople killed or badly injured in periods of intense combat on the Atlantic, in Europe, and in Asia therefore deeply touched communities across the country.

French Articles