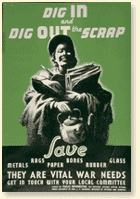 Dig in and dig out the scrap.
Life on the Homefront: Salvage
In the Second World War, recycling was called salvage, the collection of discarded materials which could be transformed and re-used for war purposes, A Salvage , formed within the Department of National War Services in January 1941, organized a national campaign to set up local committees in all the towns and cities and all the industries in the country. They publicized collection drives and coordinated local efforts with those of the scrap industry and other recovery industries. By 1944 shortages were no more, and the drives for scrap metal, rubber and fat and bones could be stopped. Salvage allowed every Canadian to feel a part of the war effort, and made it possible to find substitutes for materials in short supply or cut off by enemy blockades.
Related Newspaper Articles
English Articles
French Articles