The standing soldier exemplifies the courage and resolve of the inexperienced Canadians in their first major battle. British Field Marshal Sir John French declared that the Canadians "saved the situation."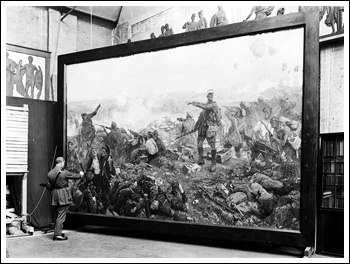 Richard Jack painting The Second Battle of Ypres
National Archives of Canada PA 4879
The First Official War Painting
No photographers witnessed the Second Battle of Ypres. Moved by his country's heroism, Lord Beaverbrook, a wealthy Canadian, commissioned this first official war painting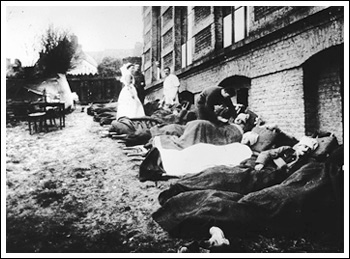 British casualties of a chlorine gas attack in May 1915. Death took up to two days for those who were seriously affected. During this time, victims coughed up litres of yellow liquid.
Imperial War Museum, London, England Q 114867
Do you agree?
"Whatever its merits, the public of the future is not likely to appreciate such realistic treatment of war."
— Sir Edmund Walker, Chairman of the Board of Trustees, National Gallery of Canada, 1917
---