First World War Centenary
August 2014 marked the 100th anniversary of the start of the First World War — a pivotal event in our history. The Dominions of Canada and Newfoundland sacrificed and contributed to the war effort in ways too often forgotten. Through their actions, a generation of Canadians established our nation as an independent force on the international scene.
Support the Museum
Your support for the work of the Canadian War Museum will ensure that the story of our military past is preserved and shared, now and for generations to come.
The Canadian War Museum is Canada's national museum of military history and is tasked with a single overriding objective: to help all Canadians understand our country's military history in its personal, national and international dimensions.
With your support, the Museum can set new standards of excellence for how we preserve and share the stories and memories of our military history through exhibitions, collections, research, education and outreach.
Areas in Need of Support
These areas of Museum activity are in need of your support:
First World War Centenary
Education and Outreach
Collections (Acquisition and Restoration)
Research
Exhibitions
Operation Veteran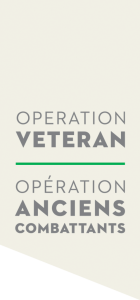 Operation Veteran was founded in 2009 by Dr. Paul Kavanagh in association with the Canadian War Museum to honour veterans and raise awareness of their sacrifices.
Thanks to contributions from generous private donors and many schools across Canada, all veterans can receive coupons valued at $11 each, which can be exchanged for refreshments or a meal in The Café, the War Museum's cafeteria. Since the creation of Operation Veteran, more than 8,000 veterans have benefited from this program.
Educating young people about Canada's debt to our veterans through better understanding our history is a critical element of Operation Veteran. In honour of the First World War Centenary, your donation will support the Museum's Supply Line program. Through this program, teachers throughout Canada can arrange to borrow a First World War Discovery Box. Each box contains authentic objects and reproductions of items such as barbed wire and steel helmets, as well as lesson plans and background documents for teachers. The boxes are intended to promote active classroom learning and discussion, and give students in Grades 4 to 12 a tangible way to imagine what life was like for Canadians who experienced the First World War.
By supporting Operation Veteran, you help us honour veterans, raise awareness of their sacrifices and preserve Canada's military.
Support the Operation Veteran program today.
Print and complete this donation form (PDF)  and return it by mail or fax.
Open the following document to learn more details about Operation Veteran, its story and its impact: Operation Veteran – Overview (PDF file, 899 Kb)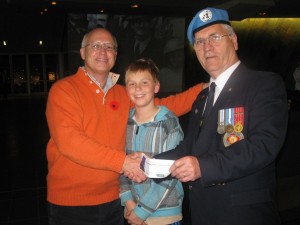 Paul Kavanagh with son Darrah and a Veteran.

Brookfield High School students take a close look at a soldier's cap. CWM2014-0057-0002-Dm