Go beyond the dogfights and immerse yourself in the lives of nine people, from both sides of the conflict, who experienced the first air war.
Join them as they train to fly, gather intelligence, fight aerial battles and drop bombs. Their stories — told with more than 80 authentic artifacts woven into an innovative graphic novel presentation — provide insight into the history and consequences of the first air war.
A series of gallery programs and interactive presentations will further immerse you in the experience of early air combat:
Balloon Observation Mission
Climb into a balloon basket and search for enemy activity on the Western Front.
Welcome to the Aerodrome
Suit up, assemble a map and get your airplane ready for action.
Ace Academy Flight Experience
Test your First World War piloting skills in virtual combat in this interactive application developed by the Canada Aviation and Space Museum. Continue your First World War adventure at home! Download Ace Academy and its sequel Ace Academy: Black Flight, for free.
An exhibition developed by the Canadian War Museum with the generous support of the J. P. Bickell Foundation.
Why a graphic novel format?
Share your thoughts and photos
Who will you meet?
Families, mark your calendar
The exhibition in pictures
Video Gallery
Deadly Skies – Air War, 1914–1918 Trailer
Installation timelapse
Meet Ada May Smith
Meet Heinrich Mathy
Meet Eric Ohman
The Sopwith Pup
Get your souvenir catalogue now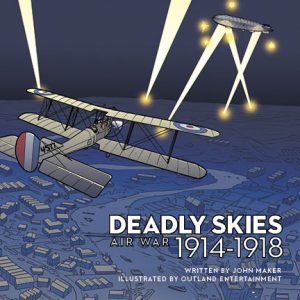 Complete your visit by picking up the Deadly Skies souvenir catalogue, on sale online and at the Museum Gift Shop.
Official Partners, First World War Centenary
John and Pattie Cleghorn and Family
H.Col (Ret'd) John C. Eaton, O.Ont., K.St.J., D.Com. and H.Col Sally Horsfall Eaton, S.S.St.J., C.D., R.N., LL.D.