What would you ask a female member of the Canadian Armed Forces about her experiences in the military? How about a young woman who defied the Taliban? What is it like to flee your country because of military conflict, or to work in a war zone?
Visit the Canadian War Museum to have individual 20-minute conversations with a range of women who have experienced conflict in diverse ways. Soldier, sailor, air force personnel, aid worker, chaplain, nurse, war bride — which "living book" will you choose?
This free event runs from 11 a.m. to 3 p.m. on April 2 and 3.
Registration begins at 10:30 a.m.
Child of War, Woman of Peace
As an advocate for the rights of women and children to an education, Zuhra Aman has defied the Taliban to open schools in her home country, and has persevered despite threats on her life and losing colleagues to killings and kidnappings. Find out how Aman's harrowing childhood in war-torn Afghanistan continues to inspire her to bring about peace through learning and education.
Languages: English, Dari, Farsi, Hindi and Urdu
Raising a Family as Rockets Fly
When Barbara Anglin followed her husband to Israel in 1969, she didn't expect to live in a war zone. While he served with the UN Truce Supervision Organization, she raised their two young sons. She remembers the rumble of guns, the blast of rockets and the shriek of jets over the Golan Heights as fighting escalated, but also making friends on a kibbutz, visiting biblical sites, and receiving a special Christmas gift from the Israeli Army.
Language: English
Only available Saturday, April 2
The Human Cost of War in Yemen
At 25, physiotherapist Islem Cheriet's work with the Red Cross in Yemen taught her hard life lessons. From Hayat, a 3-year-old learning to walk again after losing part of her leg in an airstrike, she learned resilience. Through Fatima, a mother-to-be who lost her leg, she saw pain and sadness beyond belief. Mouna, 20, who died of burns from a cooking accident because the usual fuel wasn't available, taught Cheriet about senseless suffering caused by war.
Languages: English and French
Nursing Care During War, Peace and Disaster
Lieutenant Colonel Rhonda Crew, Chief of Nursing Services for the Canadian Armed Forces, knows the ins and outs of providing health services during peace, conflict and disaster. During a long and exciting career with the Royal Canadian Air Force, LCol Crew has been posted from British Columbia to Labrador, and deployed around the world from war zones in Bosnia-Herzegovina and Afghanistan to Haiti, where she provided humanitarian relief after the 2010 earthquakes.
Languages: English and French
Only available Sunday, April 3
Responding to Humanitarian Crises
Deployed to the Philippines with the Disaster Assistance Response Team (DART) after Typhoon Haiyan in 2013, Lieutenant Commander Melanie Espina, MD, CD, thought she reached the pinnacle of her career as a Canadian Armed Forces medical officer. But a year later, she became Task Force Surgeon and Deputy Commanding Officer of Operation SIRONA, battling the Ebola epidemic in Sierra Leone. Ask LCdr Espina about her experiences and the unique skills CAF medical staff bring to humanitarian crises.
Language: English
Life and Death in Kandahar
As the Senior Public Diplomacy Officer with Joint Task Force Kandahar in 2009 – 2010, Renée Filiatrault worked with media and with Canadian, American and Afghan civilian and military partners. Good days were uneventful; bad ones brought death, like when they lost Canadian journalist Michelle Lang and four soldiers to a roadside bomb. Filiatrault, who helped carry Lang's casket during the ramp ceremony, considers her former colleagues family — in training, in service and in death.
Languages: English and French
Humanitarian Journeys
During the Yugoslav Wars, from 1991 to 2001, Janique Gagnon served as a military flight nurse evacuating the injured, and later as an operating room nurse amidst the action in Bosnia-Herzegovina. She has since moved on to a career in pediatrics at the Children's Hospital of Eastern Ontario (CHEO), but could not ignore the call to return to humanitarian care. Ask her about her six months with Doctors without Borders in war-torn Central African Republic. Find out more http://jag-travelogue.blogspot.ca/
Languages: English and French
Only available Sunday, April 3
Stories from the Cold War
Gail Harrod began her career at the height of the Cold War, serving as a Nursing Officer with the Royal Canadian Air Force. Ask her about being posted to NATO bases in France and Germany, and about her time in Northern Québec, where military personnel monitored the skies for enemy aircraft.
Language: English
Only available Saturday, April 2
Lifelines of Spiritual Resilience
Padre (Maj) Angela James, CD, nurtures spiritual, mental, physical and emotional resilience: comforting families on 9/11, reassuring young recruits away from home for the first time, sustaining the military community in Bosnia, and praying at soldiers' bedsides at a U.S. Army hospital in Germany. Being a military spouse, mother and Chaplain is a remarkable gift, she says. Sharing support and marking sacred life transitions with a network of other military women makes it all the more miraculous.
Language: English
A Canadian Nurse in the U.S. Army
Marjorie Kelly's recruitment to the U.S. Army Nurse Corps during the Vietnam War, a lone Canadian among 5,000 American nurses, led to an international career in preventative medicine, baby clinics, immunization campaigns and other programs for military families. Kelly says her no-nonsense attitude served her well in her work, but would make her a terrible politician! But it does make for interesting stories, like the one about refusing to have tea with the General's wife.
Language: English
Available only Saturday , April 2
On the Ground in Kandahar
As Development Advisor to the Commander of Task Force Kandahar in Afghanistan (2010 – 2011), Anne Lavender often went "over the wire," travelling between Kandahar Airfield and the Kandahar Provincial Reconstruction Team's forward operating base on roads rigged with explosive devices. She is proud to have made a difference through Canadian development initiatives, including building schools and health clinics, training teachers and midwives and encouraging farmers to grow fruit rather than poppies, used in heroin production.
Language: English
Only available Saturday, April 2
A War Bride Remembers
Joan McRae has a lifetime of stories to share. From London, England where she worked and volunteered during the Second World War to Campbellton, New Brunswick where she began her life as a new wife and mother. During the War, Joan experienced nightly bombings, met Service men from many countries and eventually married a handsome Canadian. Ask Joan about the War years, the adjustments she faced moving to Canada and how happy she is at 99.
Language: English
Only available Sunday, April 3
Interpreting Hope
Maryam Sahar Naqibullah says the brutal Taliban regime treated girls and women more like animals than human beings — except animals had more freedom. But thanks to the Afghan-Canadian Community Center (ACCC) in Kandahar, she graduated from school and, at 15, became the only female interpreter for Canadian troops. When her brother and friends were killed, she came to Canada through the Afghan Interpreter Immigration Program and now studies International Relations and International Security at Carleton University.
Languages: English, Pashto, Dari, Hindi and Urdu
Only available Sunday, April 3
A Rwandan Survivor
At 6, Alphonsine N. Munyampundu didn't know she was Tutsi, or that it mattered. But it mattered to her first-grade teacher, who urged Hutu children to vilify their Tutsi classmates, calling them "snakes" and "cockroaches". When the war broke out in Rwanda in 1990, Munyampundu truly understood the consequences of instigating such hatred between ethnic groups. Twenty-five years later, she says she forgives but will never forget the genocide perpetrated against her people.
Languages: English and French
From Prairie to Sea
Being a farm girl from Manitoba didn't stop Laura Neal from going to sea. She started in communications and learnt Morse code while patrolling the West Coast. Often the only women on board, she proved she could do her job well and was given the respect of any other sailor. Later, she became an Aeromedical Evacuation Nurse, and then went to Afghanistan as a General Duty Nurse. She is currently a Naval Lieutenant.
Languages: English and French
Only available Sunday, April 3
First Female Artillery Troop Commander
When Major Jaime Phillips, then 24, went to Afghanistan in 2007, she was the first female Artillery Troop Commander deployed overseas. She had 33 soldiers under her command — only one of them female. She worked alongside American and Afghan Forces, neither of which had women in their artillery units. Despite the challenges, Phillips remembers her tour of duty as a positive experience that made her the woman and leader she is today.
Languages: English, French and Spanish
Helping Refugees Build New Lives
Louisa Taylor knows how war can change people's lives half a world away. As director of Refugee 613, she leads a grassroots coalition that connects local volunteers, experts and institutions to help refugees from Syria and elsewhere build new lives in Ottawa. Taylor enjoys bringing diverse people together to pool their skills, energy and compassion so that, together with newly arrived refugees, they can contribute to a stronger community for generations to come.
Languages: English and French
Only available Sunday, April 3
Refugee Journalist
Before she was a CBC journalist, Judy Trinh was a child of the Vietnam War, one of a million "Boat People" who fled after the fall of Saigon in 1975. On the long journey to freedom, her family encountered pirates and death, but also the kindness of strangers. Judy's story — now being relived by Syrian refugees — is harrowing and inspiring, as she recounts the hardships of refugees and the joy of being welcomed to Canada.
Language: English
Only available Sunday, April 3
Family Matters
For Sergeant Stacey Williamson, military service is a family affair. Her father put in 37 years, her brother 24 and counting, and she and her husband remain proud members of the Canadian Armed Forces Health Services. A childhood of moving from place to place, long periods caring for three stepchildren while her husband is away, and her own extended deployment to Afghanistan have given Sgt Williamson valuable insight about the pressures facing military families.
Language: English
World War Women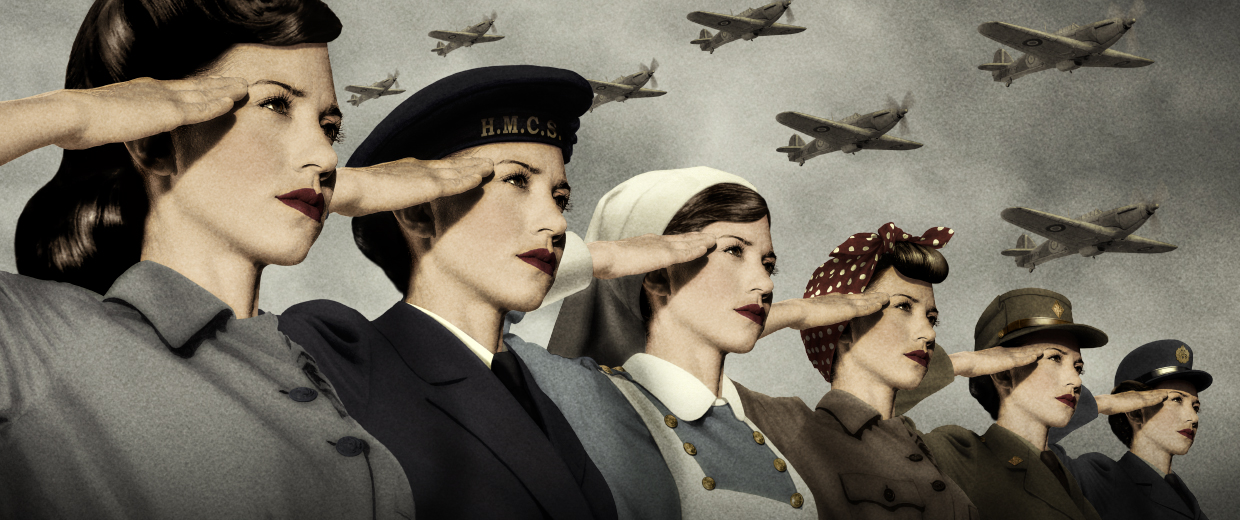 While you're here, don't miss the special exhibition World War Women.