The Canadian War Museum's LeBreton Gallery contains the most extensive collection of military technology in Canada. The Museum preserves this collection of large military weapons, vehicles and equipment so that the public can better understand the technology that Canadians have operated or confronted in times of both peace and conflict.
The LeBreton Gallery tells stories of the human experience of war. The artifacts on display are not inert hunks of metal, rubber and wood but, rather, they represent tools used by thousands of military personnel in peace and in war. Some are intrinsically linked to an individual soldier's story, while others can help visitors understand the scale and experience of industrialized warfare.
The LeBreton Gallery is one of the Museum's most popular destinations, visited frequently by adults, intergenerational groups and young families who appreciate its wide open spaces. Museum volunteers, many of whom are veterans, are often present in the Gallery to share their lived experience with visitors.
Photo: Canadian War Museum, CWM2020-0027-0014-Dm
Also: Get the Souvenir Catalogue!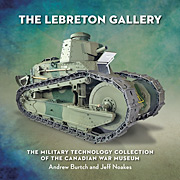 The LeBreton Gallery
The Military Technology Collection of the Canadian War Museum
by Andrew Burtch and Jeff Noakes
Published in association with the Friends of the Canadian War Museum.
Experience the LeBreton Gallery and the Canadian War Museum's superb collection of military technology. Get an up-close view of imposing tanks, artillery and other machines of war, and learn about the military technology used by and against Canadians in times of both peace and conflict.
February 2015
$9.95 (paperback)
ISBN 978-0-660-20309-6
Photo at top of page:
CWM2020-0027-0014-Dm