Inspired by the special exhibition Forever Changed – Stories From the Second World War, the War Museum's virtual Make Do and Mend workshop series reacquaints participants with many of the household skills that were part of everyday life in wartime Canada. Each event features a wartime "skill" and one of the Museum's experts to provide historical context.
In many ways, the current pandemic evokes the hardships experienced during the Second World War: uncertainty, family separation, and in some cases, limits on certain consumer goods. And just as in wartime, Canadians today have found ways to be more resourceful and find creative ways to cope.
The collections of the Canadian War Museum offer practical and inspiring ways to learn from the past. This new virtual workshop series is taken straight from the booklets, posters and pamphlets distributed during the Second World War. The "Make Do and Mend" philosophy was popularized during the Second World War when clothes rationing was introduced. This inspired people to be more resourceful in general, and it offers parallels to waste reduction movements today. Seventy-five years later, this new hands-on series is sure to spark your historical imagination!
---
Learn to Make Do and Mend, and travel back to the Canadian home front during the Second World War in this series of virtual workshops.
Presented in conjunction with Forever Changed – Stories From the Second World War.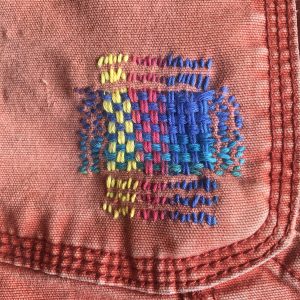 Photo: Stacey Sproule
"Make Do and Mend" was more than a slogan during the Second World War. Clothing was rationed, making it important for families to care for their clothes and make them last for as long as they could. It was common to know how to darn, mend and alter clothing at the time — a habit that is far less familiar today. Now, with increasing awareness of the environmental impact of many forms of clothing manufacturing, why not learn how to extend the life of your clothes? Join Stacey Sproule, artist and lifelong embroiderer, as she teaches us the basics of visible mending. The Museum's textile conservator, Caterina Florio, will also be on hand to share information about how to care for vintage fabrics.
In English with simultaneous translation in French.
Register on Zoom
Consult the list of required materials to follow along.
Garment with a hole (e.g., a heavy knit sock or a woven garment with a small hole less than 5 cm in diameter)
Scrap yarn or embroidery floss
Long needle with eye large enough for your yarn
Darning mushroom (or unripe avocado, lightbulb or empty rounded glass bottle)
Scissors
Image: Shutterstock, 336683384