Named after Canadian War Museum architect Raymond Moriyama, this visually striking space is a meditation on the sacrifices of conflict, as well as humankind's enduring desire for peace.
The sharply angled walls are lined with Walter Allward's life-sized plaster maquettes for figures adorning the Vimy Memorial in France. Each representing concepts such as honour, justice and truth, the figures lead to a tightly framed view of the Peace Tower on Parliament Hill.
The large painting Sacrifice, by Charles Sims, hangs on the wall of the upper gallery, reflecting both the cost of conflict and hope for a better world. This popular space also features a soundscape, capturing the sound of the whistling wind.
"While nature may be ravaged by human acts of war, it inevitably survives, regenerates and renews itself."
— Raymond Moriyama
---
Raymond Moriyama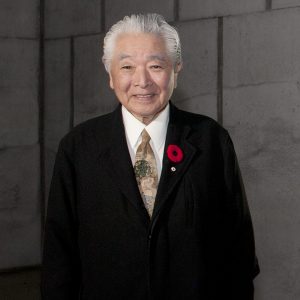 Raymond Moriyama
Photo: Canadian War Museum, CWM2011-0055-0064-Dp1
Raymond Moriyama is one of Canada's most renowned architects. He is also one of the 22,000 Japanese Canadians who were interned during the Second World War. As a teenager, Moriyama was forcibly moved to an internment camp in the interior of British Columbia with his mother and sisters.
Moriyama's first building project was a treehouse he constructed as an escape from the rigours of camp life. He later turned to a career in architecture and — with his firm, Moriyama & Teshima Architects — has designed iconic and thought-provoking structures across Canada and around the world, including the Canadian War Museum.
---
Photo at top of page:
Canadian War Museum, CWM2019-0032-0020-Dm