This exhibition brings together more than 85 photographs taken by 12 women photographers from Iran and the Arab world. Ranging in genre from documentary to portraiture, these evocative images challenge Western conceptions and provide insight into the contemporary social and political landscape of the Middle East, a part of the world where Canadian Forces have been engaged since the 1950s. The exhibition is divided into three thematic areas.
Deconstructing Orientalism
"Orientalism" traditionally refers to depictions of the Middle East and East Asia by Europeans or North Americans—romanticized visions of an inferior land, reflecting the goals of Western colonialism and imperialism. The images in this section show the critical view contemporary artists have taken toward Orientalism, especially in regards to depictions of women and the hijab, or headscarf. Here women stage themselves in dramatic settings, in contrast to the male-dominated Orientalist fantasy. Most works date to the 1990s, a time when the concern with the layering and concealment of identities by the hijab raged. While many artists based in Iran and the Arab world today find the subject of the hijab to be passé, others are finding new, provocative ways of representing the veil and its implications, often within a broader critique of Orientalism.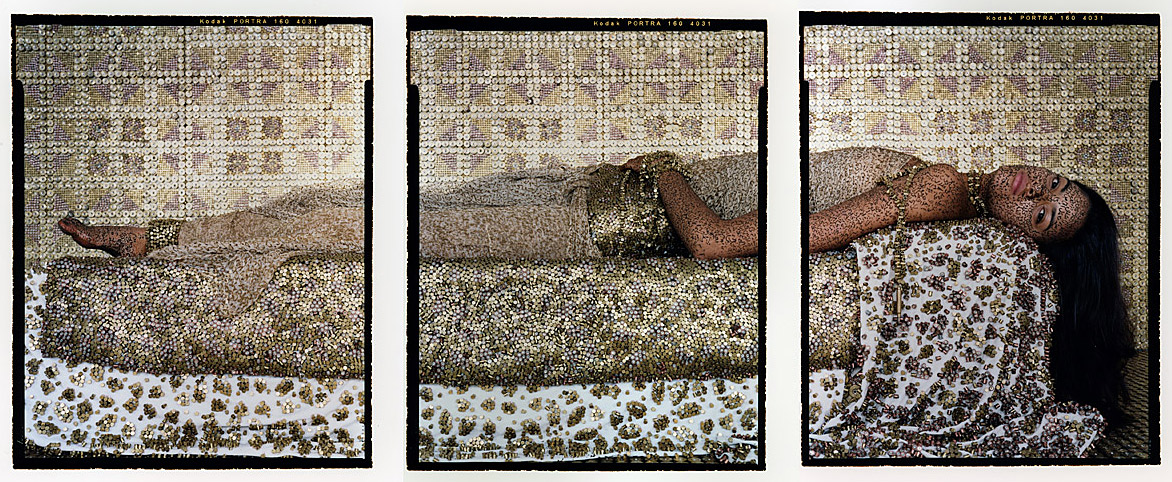 Bullets Revisited #3, 2012
Lalla Essaydi (born in Morocco in 1956)
Triptych, chromogenic prints on aluminum
*Courtesy of Miller Yezerski Gallery Boston; Edwynn Houk Gallery New York
*Reproduced with permission
*Courtesy Museum of Fine Arts, Boston
New Documentary
In addition to addressing social and political issues, this exhibition presents a new kind of documentary, a more artistic and imaginative form that brings the real-life experiences of the creators to the forefront. Many of the photographers featured in the exhibition have direct experience of war and revolution, including the 1980–1988 Iran–Iraq War, the Iranian Revolution of 2009, and the many conflicts of the Egyptian Revolution or Arab Spring that began in 2011. These themes — of conflict, occupation, protest and revolt — all find a place in their images.
Constructing Identity
Ranging from the personal to the political, the photographs in this section provide glimpses into the social landscapes of different cultures through contemporary portraiture. Diversity within contemporary visual media from Iran and the Arab world is, in part, a product of the distinct regional identities in the Middle East. The photographers come from diverse backgrounds; some are intimately attached to their national and cultural identities, while others seek to expose qualities that exist across cultures. Here they address themes ranging from the public personas and private desires of women to social issues related to their own political convictions. In doing so, the artists offer new perspectives on social, political, historical, and even universal identity.
Mark your calendar
Photo at top of page: Untitled #5
Gohar Dashti (Iranian, born in 1980), 2008
Photograph, pigment print
Courtesy of the artist and Robert Klein Gallery, Boston
Copyright Gohar Dashti
Courtesy the Museum of Fine Arts, Boston
This exhibition was organized by the Museum of Fine Arts, Boston.