Restaurants
Few museums offer as beautiful a dining space as the one at the War Museum. The Café benefits from the modern architecture of the Museum, and its massive bay windows opening onto the terrace overlook the Ottawa River. While at the Café, you can view reproductions of artworks by artist Hikmet Çetinkaya. This artist's work focuses on the poppy, an international symbol of remembrance. Visit Catering and Banquets or Facility Rentals for information about private events.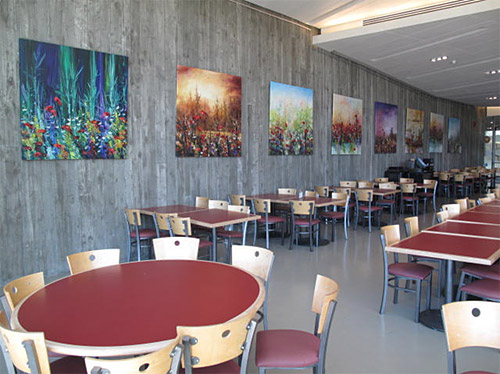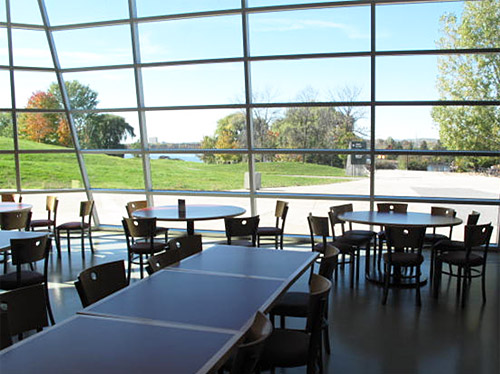 Monday to Wednesday: 8 a.m. to 4 p.m.
Thursday: 8 a.m. to 7 p.m.
Friday: 8 a.m. to 4 p.m.
Saturday and Sunday: 9:30 a.m. to 4 p.m.
A breakfast, a lunch on site, for every taste, at a reasonable price
Choose from our classics from the grill, our salad bar, our homemade soup and daily specials prepared on site, and our pizzas.
Got a sweet tooth?
Indulge in our ice cream, fruits, yogourt and pastries.
No time to eat in?


We offer a wide variety of prepared take-out sandwiches, salads and fruit salads.
Thirsty? Need to warm up or to cool off?

Small and big thirsts will find many items from which to choose.
Aspretto… Sodexo's fairtrade, sustainable, 100% Arabica coffee…
Like our carefully selected organic teas, our coffee is made to seduce you.
Food and drink are only permitted in designated areas. Smoking is not permitted in Museum facilities.
Admission Fees (Taxes not included)
Adult
Senior
Student
Child (3-12)
Family (6 pers. – Max 2 adults)
Members (More info)
Museum
$17
$15
$13
$11
$43
Free

Buy Tickets

Special Events
Varies

Buy Tickets

Guided Tours
$3 per person